The exhibit will feature works by well known Utah artists Irene Rampton, Marian Dunn, Leslie Olpin Petersen, Bessann Swanson, Michelle Emery, Amelia Ence, and Tom Plummer. It will also welcome newcomers Sherman Bloom, Linda Hoffmann Kimball, Rosemary Baron, and Leonard Romney. The exhibit will be on display from October 6 to October 28. An open house to launch the exhibit for 11 artists in the Tom Plummer Gallery will be held on Friday, October 6, from 5 PM to 8 PM in the Carriage House of the Eccles Community Art Center.
Here is a sample of artists and their work:
Amelia Ence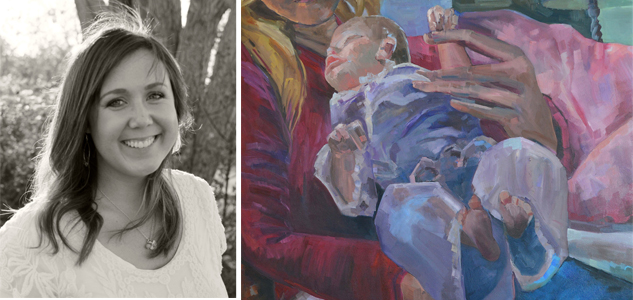 My work focuses on the relationship between mothers and children, both figural and abstract. I am struck by the beautiful ability of a mother to give life to something unborn. I enjoy working in both oil, which lends itself to a more realistic image and encaustic, which is wax based and harder to control. Therefore the product is abstract in both image and process.
Irene Rampton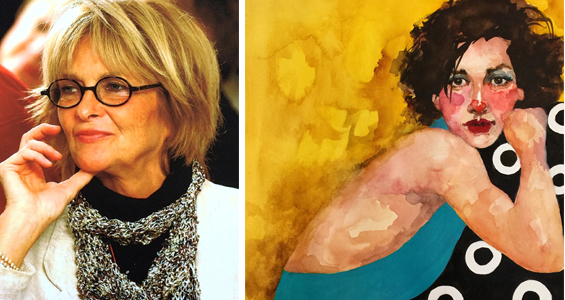 Irene Rampton's career as a freelance artist has allowed her to develop an abundance of styles and techniques to fulfill client expectations. Irene has capitalized on that experience to create refreshing and unique fine art. Using watercolor and acrylic, her paintings vary from mildly representational to gently elusive abstractions.  She strives to employ a non-objective feel which combines solid composition with loose application.
Irene's work has been juried into many prestigious exhibitions where she has received notable awards, including Best of Show, four times.  She is a Signature Member of the Utah Watercolor Society and the Western Federation of Watercolor Societies.
Bessann Swanson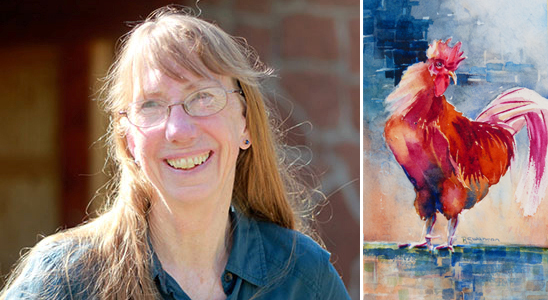 Utah's natural places are my daily inspiration. Raised on the East Coast, I moved west for the outdoor beauty. Watercolor is my response to the mountains and canyons of western landscapes that I have experienced during hikes, backpacks and river trips. Through watercolor I attempt to represent the light and colors of the land.  Now retired, I can follow my heart where it leads.
 My work has appeared at Eccles Community Art Center, Red Butte Garden, Bountiful Davis Art Center and the national Paint America competition. I am active in Utah Watercolor Society and participate in its semi-annual shows. My current interest is in outdoor illustrated journaling, which lets me give expression to my daily forays into the natural world around my home.
Leslie Olpin Peterson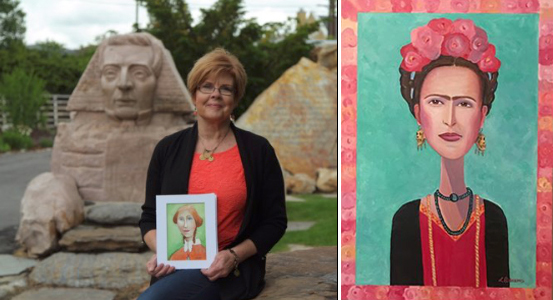 Leslie started painting five years ago. Her passion is painting extraordinary women. Peterson is best known for her whimsical series of 34 portraits titled, "The Forgotten Wives of Joseph Smith," a discussion of which appeared in a feature article of the New York Times. Her work has also been featured in Sunstone magazine, Dialogue, A Journal of Mormon Thought, and Women's Exponent 2.
Linda Hoffman Kimball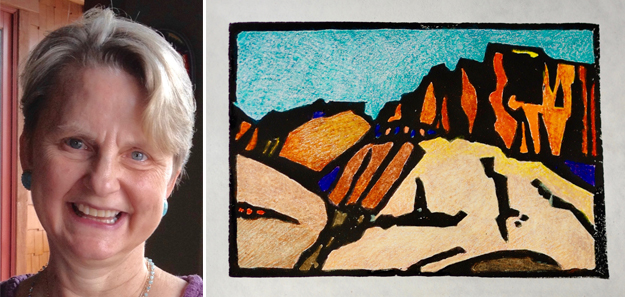 Marian Dunn

I have been interested in art for as long as I can remember.  I didn't start showing my work until 1990 but graduated from college with a BFA, married, had three boys, and went back to school for an MFA. Instead of finishing that I agreed to co-write and perform a PBS humanities show called "Experiencing Art" for elementary school age children for a three year period.  After that I continued to lecture to ALL AGE groups with some of the same materials.  What I learned from that experience is that learning about art is a lifetime endeavor.  I teach workshops--I take workshops--there will always be something new to ingest.  
Because I am curious I work in many mediums and am always trying new approaches.  One thing in which I specialize though is working luminously.  I am a colorist and always look for and generally teach painting in such a way that, in whatever medium, the color gleams as in a stain glass window.
Sherman Bloom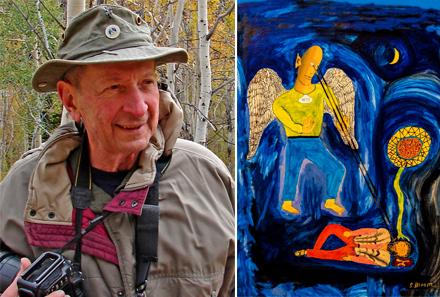 Sherman Bloom was born in Brooklyn, NY and moved to Salt Lake City in 1966, to accept a position at the U of Utah College of Medicine.  A photographer since childhood, he developed an interest in painting when he retired, and began actually doing it in 2014 with the help of Marian Dunn, with whom he developed a friendship some years earlier. So far, he has confined himself to acrylics, but also uses photography to help in the preparation of the work to be painted.  His photographs have been shown in New York, Colorado, Mississippi, Arkensas, and Utah, as well as several magazines and books, but this show is the first presentation of his paintings.